Getting tickets last minute for Cubs v Cardinals, at Wrigley, was a miracle in itself. The game turning out to be the game that decided the NLDS and one where Schwarber hit a moonshot 438ft to the video board in right field was absolutely priceless. 
We both worked a full day before we left at 1230am (we live no where near an airport) to make our 6am flight, which landed at 9am in Chicago. It was our second trip to the magical city and we wandered the streets taking in some deep dish delight, anticipating the game that night.
By the 7th inning, we headed down from our seats to the walkway behind infield seating. We chanted "Schwarber!" with everyone else, then sang 'Go Cubs Go' before sprinting to catch the last train that would connect to O'Hare. Our flight left Chicago at 11pm and we were back in the car headed home by 230. We had been up for over 24hrs and exhaustion was eating away at both of us. i fell asleep in the passenger seat, despite being determined to stay awake. However, i woke myself up and scared the hell outta Jason when i declared to all that Schwarber was hitting 500!!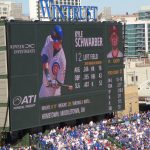 Here he is just before the MOONSHOT!